Big Imprint is excited to announce our 2016 RAGBRAI team sponsorship!
Follow our team as we prepare our riders for Iowa's famous RAGBRAI cycling event.
This year's week-long ride is set for July 23 – 30. The ride begins in Glenwood, Iowa and will end at our own neighboring town of Muscatine, Iowa!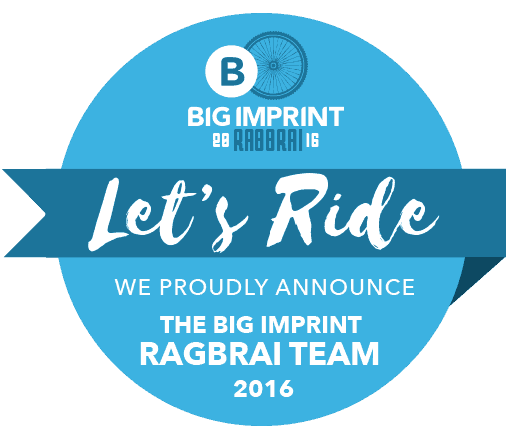 We are extremely excited to introduce our team of riders that includes four of Ethan's (our owner) siblings! Not only is the sponsorship a fun way for Big Imprint to get in on the fun of Iowa's biggest cycling event, it's also an Anderson family affair. We plan to share our adventures with our friends and customers and welcome interaction throughout our ride prep as well as during the ride.
Riding for team Big Imprint in the 2016 RAGBRAI is:
Andrew Anderson – real estate investor, artist, world traveler, cyclist, community involvement specialist
Anna Anderson – farmer, cyclist, world traveler.
John Anderson – woodworker, rally racer, engineer, dutch oven aficionado
Nate Pierson – army captain, mountain climber, world traveler
Sarah Anderson – designer, agronomist, cyclist, award-winning climber
Follow our team on their bike ride through Iowa on the 2016 RAGBRAI here: www.bigimprint.com/ragbrai or on Facebook and Instagram at #teambigimprint.