Big Grove Brewery is known across Iowa for their craft beers, delicious food, and excellent service. Along with our partner, Creative Mellen, Big Imprint had the pleasure of helping the brewery recreate their website. We talked to Jill at Big Grove Brewery to get some insights into their business and how their website has helped them grow.
Big Grove Brewery has two locations in Iowa. Each location has a brewery and taproom that guests can enjoy. Their first brewery opened in Solon in 2013 and started to make a name for itself. Big Grove became known for the high quality of their unique beer, amazing food, and service that can't be beat.
They decided to expand into Iowa City in 2017. The Iowa City brewery is 28,000 square feet and is a great space to hang out with friends. Big Grove has become a tourist destination for everyone who comes to the area. But don't worry if you don't live nearby; Big Grove sells their beer across most of Iowa. They have continued to expand in the past years, growing to a staff of 200 amazing employees who all help make the Big Grove experience special.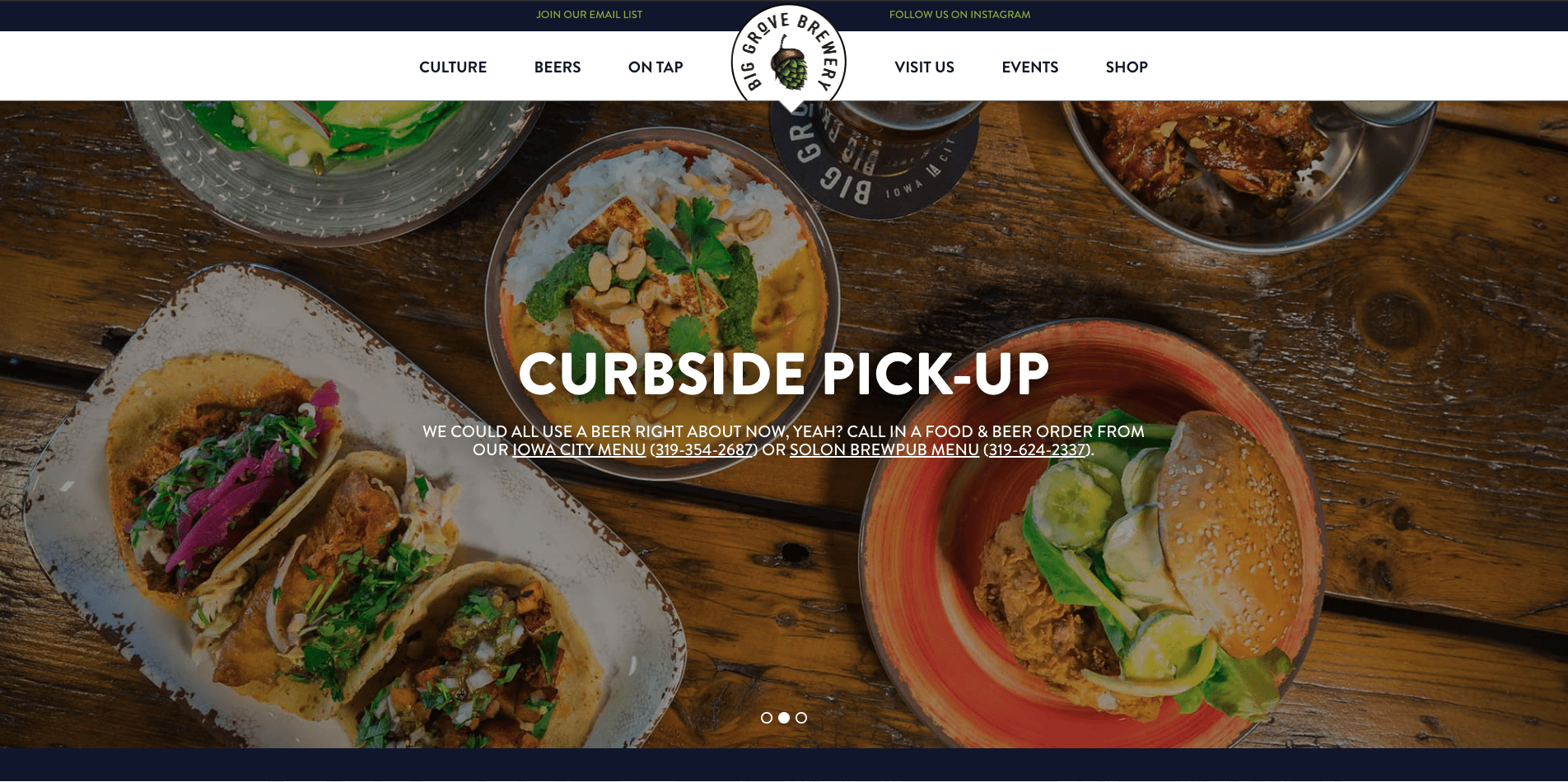 Which of their delicious craft beers is the crowd favorite? A simple answer is: all of them. The talented brew team at Big Grove can create the best beer in many different categories. Many of Big Grove's guests enjoy the fall beers, including Burch the Bear (Brown Ale), Wade Wisely (Oatmeal Stout), and 1939 (Amber Ale). Then there are the classic beers to turn to during every season, including Easy Eddy, Color TV, Big Ed, Double Nod, and Turtlehunter. You really can't go wrong at Big Grove when it comes to their beer!
Big Grove has had their fair share of success throughout the years. Most of their success lies in their reach; they are considered one of the fastest growing breweries in Iowa. They won a gold medal for Easy Eddy Deer Beer and are the official beer sponsors of the new Xtream Arena in Coralville. In 2019, Big Grove became the official beer of RAGBRAI and was the first Iowa brewery to sponsor the event.
Big Grove had to figure out how to manage their way through COVID-19, like many businesses. They shut down in March and stayed closed until May, but they came up with creative ideas to get through this tough time. They switched to distribution only for their beers and started a Saturday drive thru. Thanks to their new website, people could place orders online and get some delicious food and great beer without getting out of their car. Big Grove is happy to be open again and inviting guests back into the restaurant. The Iowa City location has a large outdoor seating space for people who feel more comfortable outside.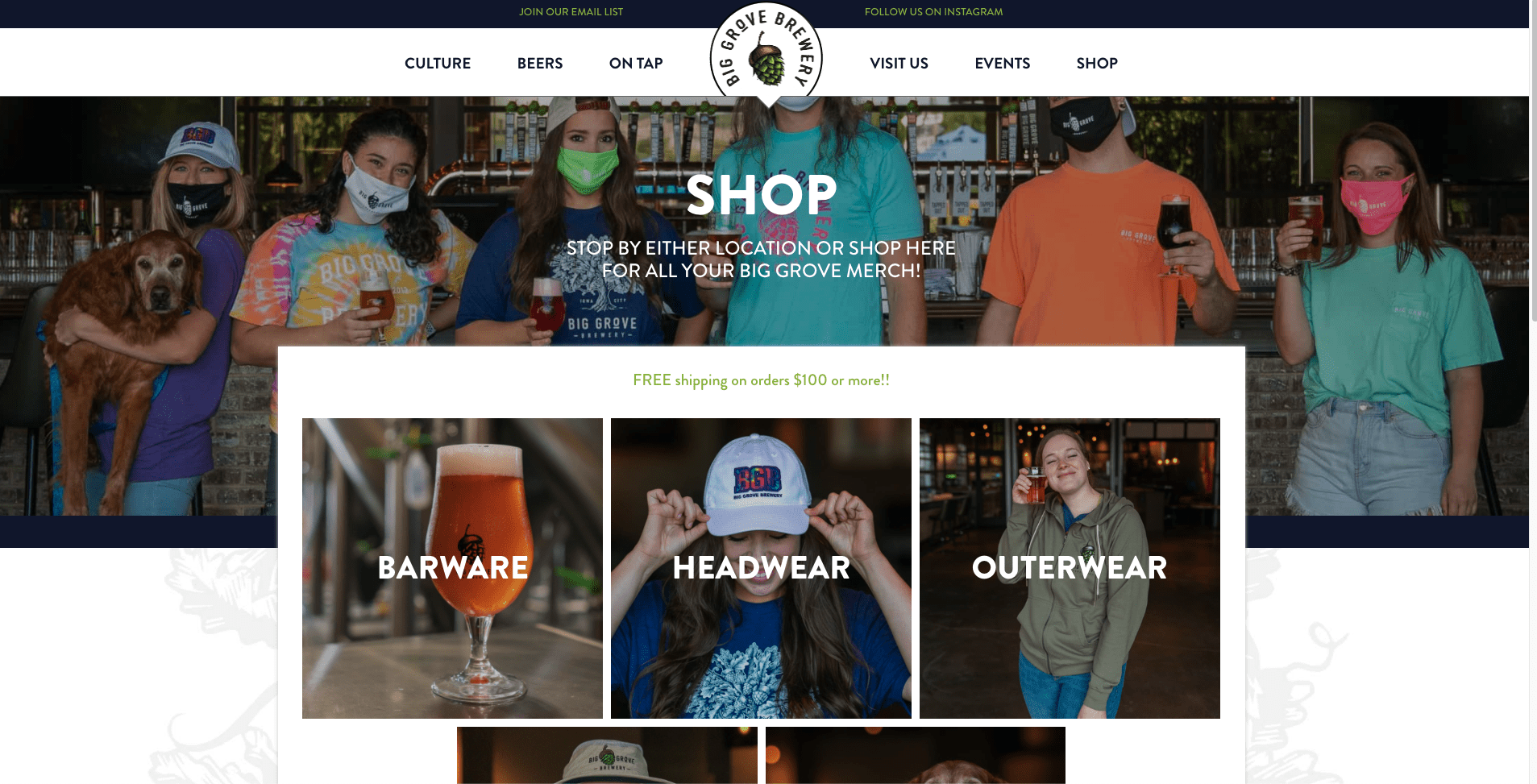 Having a new and refreshed site was a big boon for Big Grove during the pandemic. The Brewery worked with our design partner, Creative Mellen, with the need to make their current site more visually appealing, organized, and easy to update and to offer an online store. Creative Mellen was their top choice to redesign their new website. Jill from Big Grove Brewery says, "Kevin at Creative Mellen is really great to work with, does what he says he will do, is patient, and is just a really nice guy. We had a great experience building this new website with him." Big Imprint was lucky to partner with Kevin in creating Big Grove's new and improved website.
Big Grove enjoyed seeing their website come to life in front of their eyes. They liked how well the website matched their personality and that it turned out as they envisioned it. The new website has been a great help in communicating with their guests. People are able to look up the hours, directions, menu items, and beer information, as well as learn about the staff and apply for open positions. Overall, the new website has helped Big Grove Brewery in many different ways.
Jill's favorite part of the new website is the online store. She says, "The online shop is awesome! A lot of people out of state wanted to buy our merchandise, and now they have pictures to look at and it is easy to use." The online shop particularly helped their business during COVID-19. Jill says, "It was very huge for us to have the online shop capability all set up and ready to go when COVID-19 hit. We pre-sold all of our food and beer for our weekly drive thru through our online store and it worked out very smoothly."
Big Grove Brewery is always looking to improve and innovate. You never know what new beer or merchandise could pop up with that team! They also have their eyes on further expansion. We look forward to seeing all the new things Big Grove will offer in the next few years!