Wertzbaugher Services opened in 2012 as a welding and fabrication business and have since grown to become an important part of the West Liberty community. Their services have expanded to include repairing personal trucks and trailers and hauling freight. As a business wanting to expand their outreach, they came to Big Imprint to build them a website, and we were excited to help them grow within our community and expand outside of it.
One of the unique services that Wertzbaugher offers is creating customized pieces. You can bring them any idea and they will work to bring it to life. Some of the Jason's favorite welding projects over the years have included making Christmas gifts for family and friends. They also made a memorable contribution to the West Liberty Parade. They took an old dirt bike and a garden tiller and put them together to make a full-size motor. If you have a welding project that you want to see come to life, Wertzbaugher Services is the place for you.
COVID-19 impacted many businesses in a negative way, but luckily it had the opposite effect for Wertzbaugher Services. Their work hauling freight for Menards and Lowes stores is typically a seasonal gig for them. This past year, with everyone staying home, many people wanted to do projects around the house. Transporting supplies for would-be do-it-yourselfers kept Wertzbaugher busy six days a week throughout the spring, summer, and fall.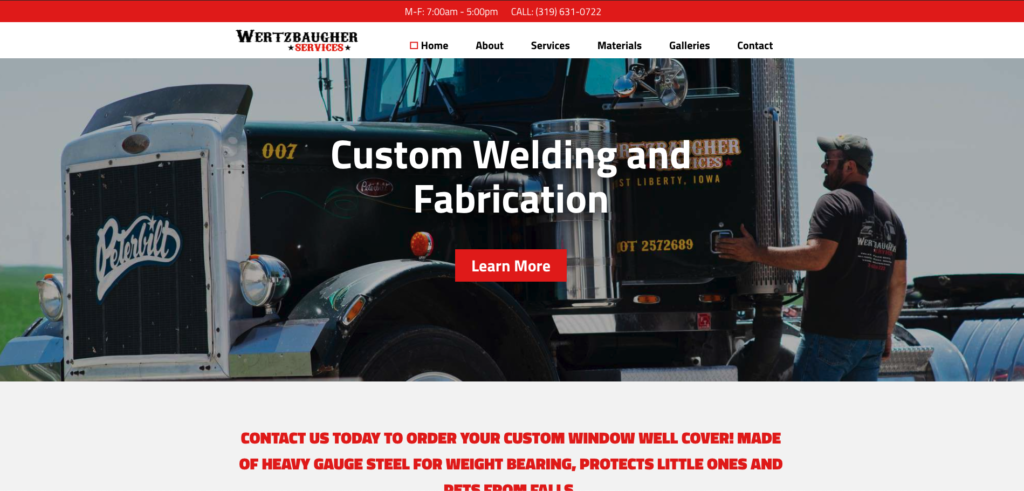 Wertzbaugher Services chose Big Imprint because they believe in staying local when possible, and because we provided everything that they wanted for their website, including knowledge and reliability. Jason Wertzbaugher says he likes the fact that the new website tells the company's story and is easy to navigate. They have gotten a lot of contacts through the website's Contact Us page, which lets them respond quickly to clients and get started on new projects directly through the form on their page.
The business has grown so much that Wertzbaugher Services is planning to move into a bigger shop so they can have the room they need. We are looking forward to seeing them in their new shop and to continuing to provide website services for their growing company!