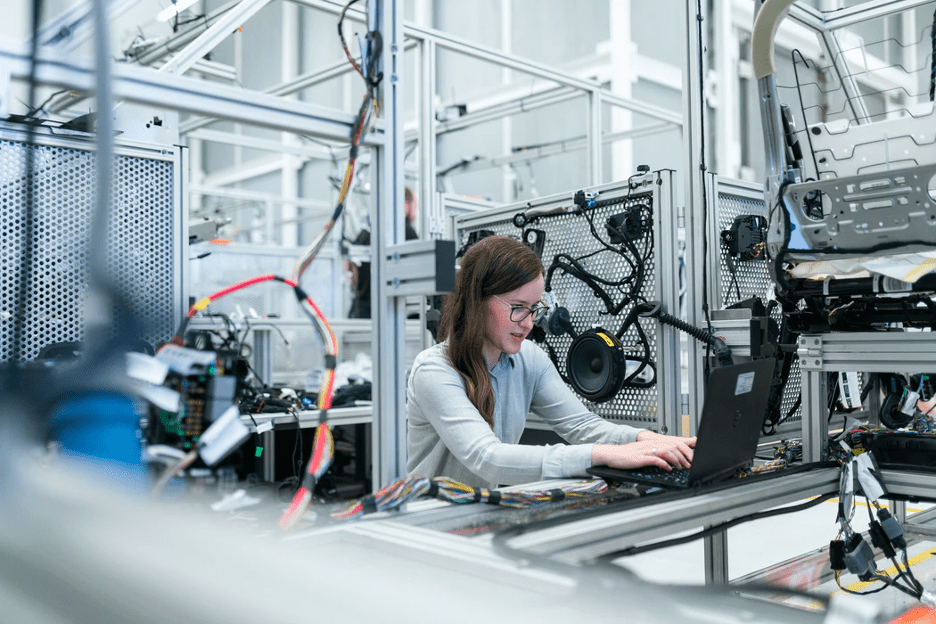 Content marketing is a powerful way to reach your customers, but it's not something that every business can do.
A common mistake is to think that content marketing is only a viable option in industries such as SaaS and tech. But this isn't true, and a clearly defined content marketing strategy can have a powerful effect in other sectors, with manufacturing being one of them.
Sometimes manufacturing can be a little more technical and use more specific terms, but that doesn't mean that content marketing can't be effective. In fact, it can help generate leads and revenue for your manufacturing business, just as any other industry.
With this in mind, we've put together a guide for manufacturers that will help you understand what content marketing is, why it's important and how you can get started with it.
What is content marketing?
Content marketing is such a powerful way to attract and engage an audience around a particular topic or brand. When you make content, such as blog posts, videos, or infographics available for free online, people start to associate your brand with helpful information.
Why manufacturing companies should embrace content marketing
Content marketing is an excellent way for manufacturers to connect with their customers.
Customers are turning more and more to digital channels to learn about products, services, and businesses. In fact, 90% of consumers say they use the internet as a resource when making a buying decision.
While content marketing is a widely used channel for some industries, it is under-utilized in manufacturing. According to the CMI, less than 25% of marketers in the space have a strategy for content.
However, this represents an excellent opportunity for manufacturing marketers to get ahead of the competition.
Think of it as getting in on the ground floor. You can take advantage of uncompetitive keywords and build a winning content marketing strategy that will engage, convert and generate revenue for your manufacturing business.
How to develop a content marketing strategy for manufacturers
Sometimes we can be tricked into thinking that an industry isn't glamorous enough to create compelling content. But this is, in fact, an opportunity to shake things up and leverage a gap where perceptions can be changed.
What has worked in other industries can help you build a robust content marketing strategy for your manufacturing business.
There are some slight differences for manufacturers to acknowledge when compiling a content marketing strategy:
Products might be more complicated: manufacturing companies will often have more complex products, which requires more explanation to understand why they are different and better. 
Audiences will be more educated and expect a certain level of expertise in return: this means that they are generally not looking to be sold to. You will first have to build trust and show your knowledge.
Buying cycles may take longer: there may be entire teams making an informed decision on your product, and the costs involved are much higher than say a SaaS tool.
When working on implementing your content marketing strategy it's important to stay organised and stay consistent. There are multiple tools to help with this (even templates for tools like Notion) that will ensure you can create the best content for your manufacturing business.
Types of content to include in your manufacturing content marketing strategy
Blogs
Blogging is one of the most commonly used content marketing channels for B2B businesses for a reason.
According to research, companies that blog are likely to generate 67% more prospects than companies that don't.
These companies also have an over 400% increase in the chance of being ranked on search engines and will receive on average 97% more links to their site. So not only does it benefit your ability to convert, it will improve your business' SEO.
Blogging is an effective way of acquiring customers because they want to understand who you are, and they want to know that they can trust you before doing business.
A blog is a fantastic way to do this because it shows you know what you are talking about and that you are on the pulse of the industry in general.
Blogging will help establish your company as a leader in the manufacturing space and strengthen the relationship between potential customers and your brand.
For manufacturers, the following tips will help you to get an influential blog on the ground:
Speak to your sales team: this will help you identify the pains and problems of your potential customers that will form the basis of excellent blog content.
See what the competition is doing: imitation is the highest form of flattery. There's nothing wrong in looking at what already ranks and creating a better, more valuable resource from there.
Take inspiration from other industries: look at what has worked in different industries where content marketing is more prevalent.
Consistency is vital: keep going, even when it looks like nothing is happening.
Case studies
One of the best things for boosting your brand's reputation is a case study. These case studies use the best sources possible to show how credible your business is. They leverage your previous customers to do this. Some benefits of case studies to your marketing strategy are the following.
Influence: Webinars, blog posts, and white papers are all great content types that can help industrial companies increase leads and grow their client base. But when making a buying decision, nothing is more persuasive than an actual case study with real numbers.
Originality: Case studies are an original type of content since they use fresh content. You can create this fresh material, unlike case studies produced by your competitors.
Drives value with current customers: When you develop case studies, you want to go to past customers and talk to them. You'll get their approval to do this and ask them for customer references or testimonials if they are trustworthy. This process allows you to figure out if certain customers are willing to vouch for your brand or service.
Videos
Some people like to learn about new products and services visually. That's why videos are such a great content solution for manufacturers. They provide endless opportunities to communicate and explain why you are different.
An excellent place to start is looking at the fundamental problems your customers face and explain and help solve these via informative videos.
Another option is to repurpose your blog's (and your competitor's) content in video form.
Some key formats for manufacturing videos are:
Customer interviews: video case studies and interviews can build trust and decrease the length of the sale by showing your previous results.
How it works: customers love to see how things work under the hood. With highly specialized products and services like those found in manufacturing, you can stand out by showing the ins and outs of how your solutions work.
Demos: it can be incredibly easy to get lost in jargon on a landing page. Scrolling down the page, you can struggle to establish exactly what the product you are looking at does. Demos walk potential customers through this visually and are far more engaging than any written content could be.
Whitepapers
These are great to show authority and create trust with potential customers. Generally, a whitepaper will focus on an issue and present a solution to this. They will often contain statistics, research, and other data presented more formally.
Usually, they will contain a methodology and will talk to issues that your manufacturing niche is facing.
Whereas a blog post can take less than a day to put together, a white paper is more detailed and requires a transparent methodology, so it should take much longer to put together.
However, the effort is worth it as they will usually generate higher-quality leads. They are best for potential customers that are towards the bottom of the sales funnel. These people are closer to making a purchase decision, so your long-form, well-researched white papers will be a great asset to build trust and convert these people into paid customers.
Another great thing about white papers is that they can be used to build your audience and generate prospects. Most companies will put their best-performing white papers behind a form. When a site visitor requests the white paper, they will be given the option to sign up for an email list or other repeatable channel.
To create excellent white papers, you must do the following:
Think about making your content engaging: too many white papers are dull, and many prospects will not read all of it. They must be technical but using visual representations of the findings can help to keep them engaging.
Make sure it's unique: create a truly unique whitepaper, and you will reap the rewards. This is because unique findings and statistics will get reused in other publications and sites, generating backlinks to your page and making it rank higher in search!
Think about others, not just your company: it can be easy to slip into self-promotion mode. But, this is about establishing trust rather than making a quick sale. Focus on the broader industry trends and how the industry as a whole can solve any problems or issues.
Social media
Social media is a great way to generate interest in your company, product, or service. To help you get the most out of your social media marketing, here are some top tips for using social media as part of your content marketing strategy for manufacturers.
Storytelling is key: we won't apologize for repeating this, but it's super important for content marketing. Keeping your posts to reflect a story will help you to invoke emotion with potential customers. It's this emotion that will lead to them becoming customers.
Have a cause: this ensures that you can differentiate yourself from others in your manufacturing niche. Still, it also allows you to engage and increase your presence by interacting with others.
You might think that your product or service isn't that interesting, but you shouldn't let this hold back your social media content. Create interest and tell stories, and you'll be on your way to higher engagement and more customers.
What are you waiting for?
For many businesses there's no better option than B2B content marketing. The ROI is incredible, and you can see fantastic results for little investment.
Ensure that you leverage different types of content and build a robust strategy that will make you the leader in your manufacturing niche.
Get it right, and you can be the breath of fresh air that will drive traffic, inquiries, and customers.
Author bio
James is a content marketer and SEO expert who has helped multiple businesses grow and nurture their businesses through content marketing.