Rebuilding Together is a non-profit organization with branches in 146 cities nationwide that is dedicated to providing home improvement services to low income families.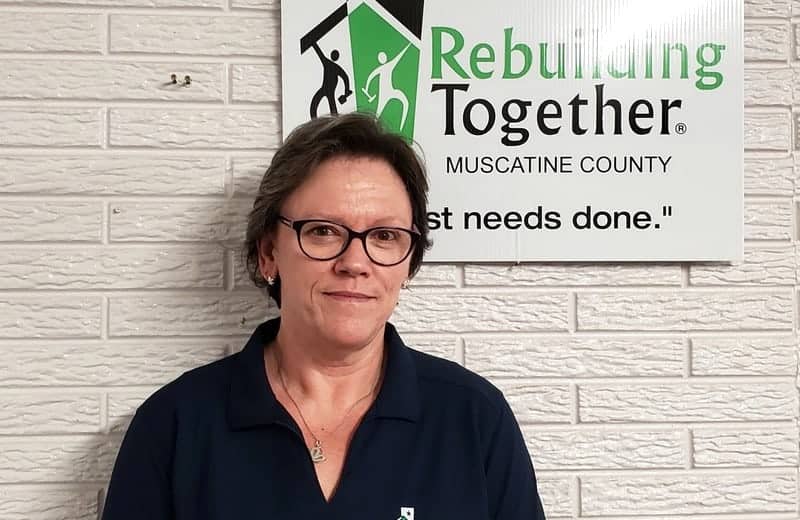 Deb Iliff and her husband Frank are the Volunteer Coordinator and Executive Director, respectively, of Rebuilding Together Muscatine County located in Muscatine, Iowa.
They're long-time clients of Big Imprint (in fact one of our first ever website clients, way back in 2010)!
We got the chance to pick Deb's brain about how she goes about managing non-profit volunteers and hear about the challenges she faces, how she overcomes them, and the valuable lessons she's learned.
Q: Can you give an overview of what the process of coordinating volunteers looks like?
A: The first step is to get the projects lined up and figure out who needs what done, how many people we'll need, and what roles will need to be assigned. After that, it's time to start getting the word out and get volunteers. Then it's my job to keep track of all the volunteers and get them assigned to the proper jobs and all that.
There are always things that change as the projects approach and even on the day of. I do my best to coordinate everything, but really you have to just be ready for anything to happen.
Q: How do you go about recruiting volunteers and spreading the word about volunteer opportunities?
A: Word of mouth is huge for us. Often our work speaks for itself, as people are able to see the work we've done and the impact it has and it piques their interest in getting involved in the future.
We also bombard social media when we have projects coming up, so a lot of people hear about us and our volunteer opportunities through social media.
In addition to that, we also have corporate sponsorships with local companies, in which they allow their employees a day off to go and volunteer.
We also do a lot with the local paper and radio stations, so there are a lot of different ways we make ourselves known to people.

Q: How do volunteers sign up?
A: There is a sign up sheet on our website. On this sheet people are able to select what types of jobs they want to do or are qualified to do. Not everyone can run a table saw, for instance, so it's important for that form to help us filter out who can do what tasks.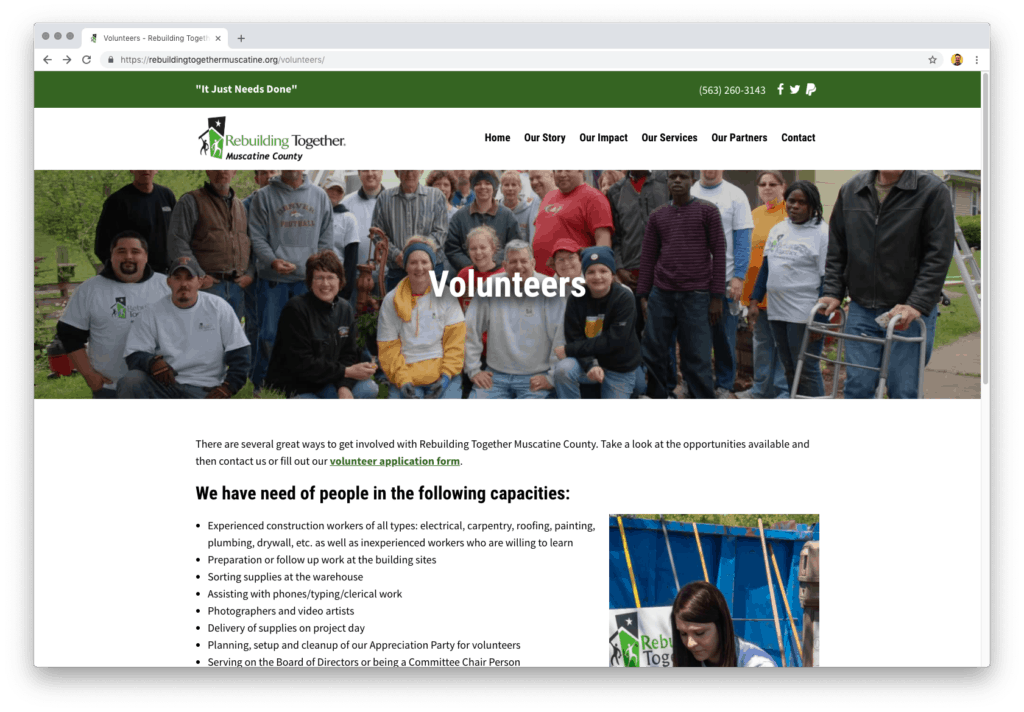 Once we get all the signups, we're then able to plug them into the different projects based on their skills and preferences.
We also utilize local connections like through our church and other churches who are nice enough to allow us to have a table in the lobby where we can tell folks about the opportunity to volunteer and we also have paper sign up forms there for them to fill out if they want. Otherwise they can go sign up online later.
Q: What tools do you use to help with the organization and scheduling of volunteers?
A: I'm techy, but I'm not high techy. We just use an Excel sheet with all the information from the sign up forms plugged into it.
Right up until two days before the event, there is a table with Post-it Notes where I have people's names and jobs written on them. Then as we get closer to the day, I move the Post-its around to the different jobs to assign people to the proper tasks that line up with their skills and interests.
You can always count on a 40% walk-up, meaning people who didn't sign up or anything beforehand, they just show up and want to help out. So for those people, we have personnel available to help them get the waivers filled out and then they come back to me and ask for a placement.
Excel sheets and Post-it notes—not a highly sophisticated system, but it works well for me!
Q: What have you learned about managing volunteers that you wish you would have known earlier on?
A: People will always tell you "yes" but a lot of times they don't come through. We've had dozens of people say "yes, we'll be there, you can count on me!" but then they don't show up because it's too cold, too hot, or something else came up. People can be fickle and life happens sometimes, so often we're left in a situation where we have to try and overcome the absence of volunteers.
It's my job to, as best I can, make sure the volunteers understand how vital their help and effort are. It's so important to tell your story and to get people to "buy in" to the vision of what your organization is trying to do. Make sure that people understand why they're volunteering, because if they don't feel like they are making a difference, then they're not going to be dedicated and there's a higher chance that they won't come through.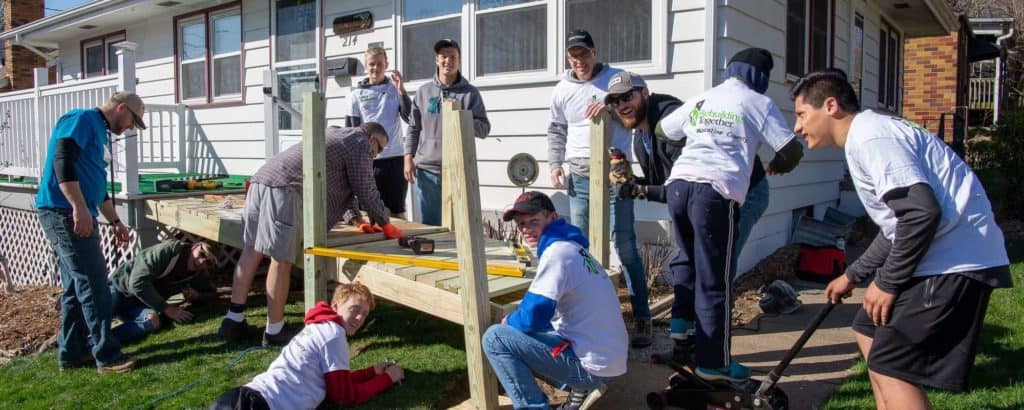 Q: What mistakes did you make early on that you would warn others about who may just be getting started with volunteer management?
A: Start earlier. Don't start preparing for projects just two weeks in advance. These things take twice as long and cost twice as much as you think they're going to.
Each year we come up with a better list consisting of what we did well, what we could have done better, and things that we should never do again. We always debrief and learn how we can be better in the future.
In addition to that, as a volunteer coordinator, it's incredibly important to talk to people and ask for help. Always be willing to ask for feedback and suggestions from people, and seek out helpful resources or other people with experience and ask for their advice.
It's so important to start early enough that you can prepare for all the little details and get as much help from people as possible.
Many thanks to Deb for taking the time to talk with us! 
—Mitch and the Big Imprint crew