The war for consumer dollars online in the eCommerce space has never been more competitive. New online stores are popping up all the time, while the number of potential customers while increasing, is finite. Running an online store requires figuring out what works and what doesn't, and it often involves looking at what the competition is doing.
The most successful online stores follow certain best practices that keep them well ahead of their rivals. In this guide, we'll look at ten of the things successful stores are doing right.
1. Blue Nile: Optimize your site for mobile
According to Statista, over 51% of the world's internet traffic comes from mobile users, and many consumers are skipping the laptop phase altogether, going straight to mobile. If your online store isn't optimized for mobile, you risk losing a significant portion of your target market. 57% of customers say they won't recommend a business with a poorly designed mobile website.
This is where responsive website design comes into play. A responsive website automatically adapts to every platform, whether it's a desktop, a smartphone, or a tablet, without requiring the user to resize the display. The result is a website that balances content and white space while maintaining the ease of navigation.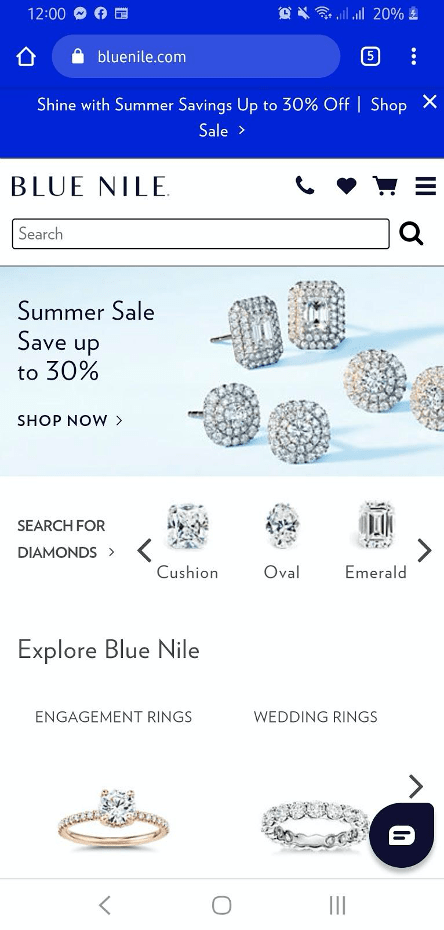 Blue Nile's online store, for example, uses responsive web design to ensure that it is easy to navigate and its products are featured prominently. If you're looking for an oval-cut diamond engagement ring on a whim, Blue Nile makes it easy for you to choose a ring, add it to your cart, and ask for help from a chatbot (more on that later).
2. Nordstrom Rack: Post clear and understandable shipping and return policies
Shoppers don't appreciate being surprised with hefty shipping charges before they click on "pay now." A recent study showed that 80% of shoppers abandoned their shopping carts after seeing high shipping costs. Confusion about shipping and return policies could also lead to negative reviews. 

To sidestep this problem, Nordstrom Rack shares its shipping and return policy on its home page. This helps minimize the risk of misunderstandings that result in angry customers. Furthermore, the competitive policy – free shipping for orders above $100, or the 45-day return policy – undoubtedly helps generate additional sales.
3. Sephora: Offer product suggestions in real time
Customers very rarely shop online with the intention of going on a buying spree. However, the top-selling online stores encourage this kind of behavior. One way they can do this is with a free shipping policy that's linked to spending. Another tactic is to suggest products that go well with the original purchase.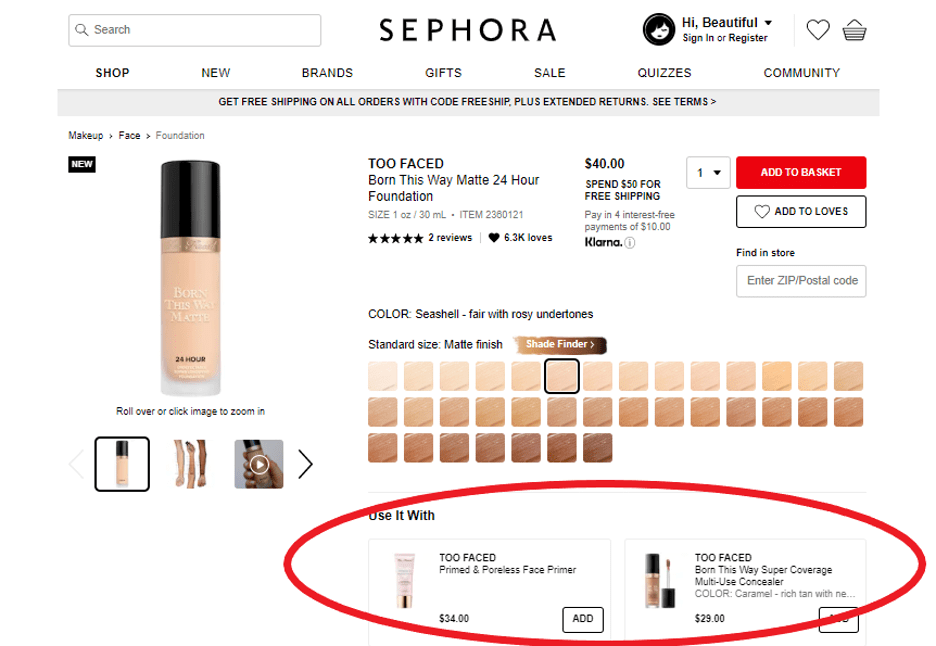 For instance, Sephora suggests other relevant products as an upsell during the purchase process. Offering relevant upsells in this manner contributed to maximizing Sephora's online sales, which was estimated at $1.2 billion in 2019.
4. Balsam Hill: Make it easier for customers to find a product they want
Another way to generate sales is to help visitors easily navigate your site. Adding a search function to your website and grouping your products into neat categories will help customers quickly find what they want.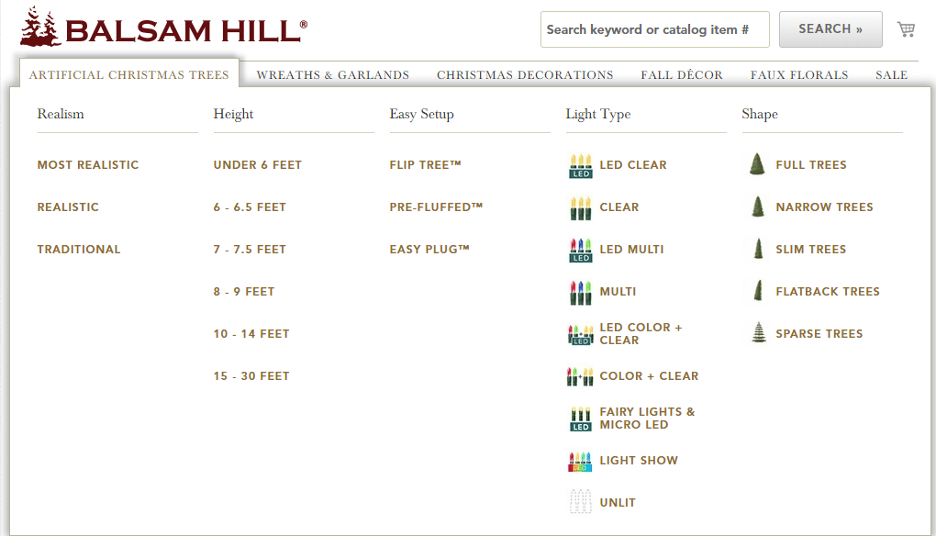 Christmas tree seller Balsam Hill, for example, lets customers search for items using a keyword. If they've already found something they like offline, they can copy the catalog item number and paste it into the search bar. Meanwhile, the logically laid out menu helps people easily navigate around the site so they can find relevant products based on their needs.
5. Amazon: Make it easier for users to check out of the store
Your website's checkout process is something you should be focusing on if you want to provide an excellent customer experience. According to SmartInsights, around 87% of online shoppers abandon their carts if the checkout process takes too much time or effort. A good checkout process is what separates the likes of Amazon from other ecommerce retailers.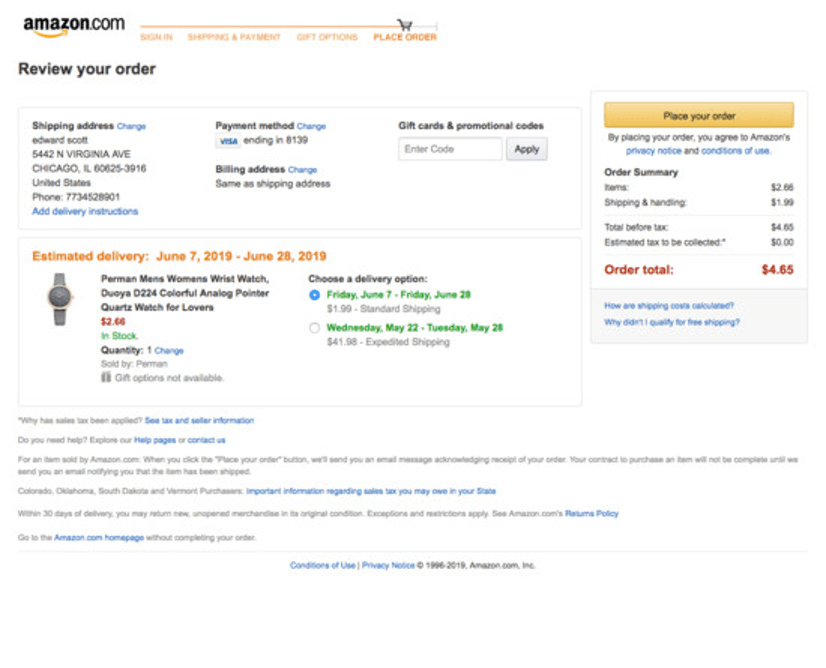 Clicking on "Check Out" loads the page above and allows the customer to review and change their shipping and billing addresses, payment method, and delivery time. It also gives them one more chance to review what they've purchased, make changes to their cart, and use promo codes without having to scroll down or click on multiple buttons.
6. ThredUp: Use email sequences to save abandoned carts
Despite your best efforts, some people will abandon their shopping carts. They might have gotten distracted or busy. This is by no means the end of their online shopping experience on your site. You can still help them finish the purchase by using abandoned cart email sequences.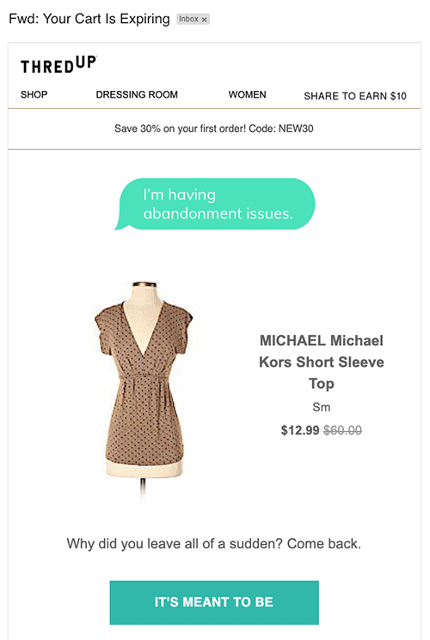 ThredUp, for example, sends a "your cart is expiring" email even if carts don't have expiration dates. The cart abandonment email also comes with a discount offer to help convince the customer to come back and finish the purchase. 
Just as you might choose to use email tracking software for your professional correspondence, you can review how people interacted with your abandoned cart series using your email marketing software. If a customer has received the abandonment email but hasn't opened it, you can set up your email marketing software to send another one. Don't just stop at one email — Campaign Monitor says a three-part cart abandonment email sequence brings in close to 70% more revenue than just a single reminder.
7. HobbyKing: Offer multiple shipping options
Your customers want control over their entire shopping experience, down to the delivery time. If your online store offers different options, you give your customers the power to choose when they can receive their packages. They might be willing to pay more for quicker delivery. 

HobbyKing offers four shipping options that vary according to cost, speed, and the ability to track on their online store. The BPost shipping with the tracking option in the screenshot above costs a lot more than the others (€19.82). Many customers are willing to pay that much to receive their items earlier and track their packages while in transit.
8. QuickZip: Guide your customer through the process
Many customers become hesitant about buying from online stores because they get overwhelmed by the sheer amount of choices being offered by online stores. Something as simple as beddings, for example, comes in different shapes, sizes, and even softness. Your job as a website owner is to make the sales selection process as quick and painless as possible.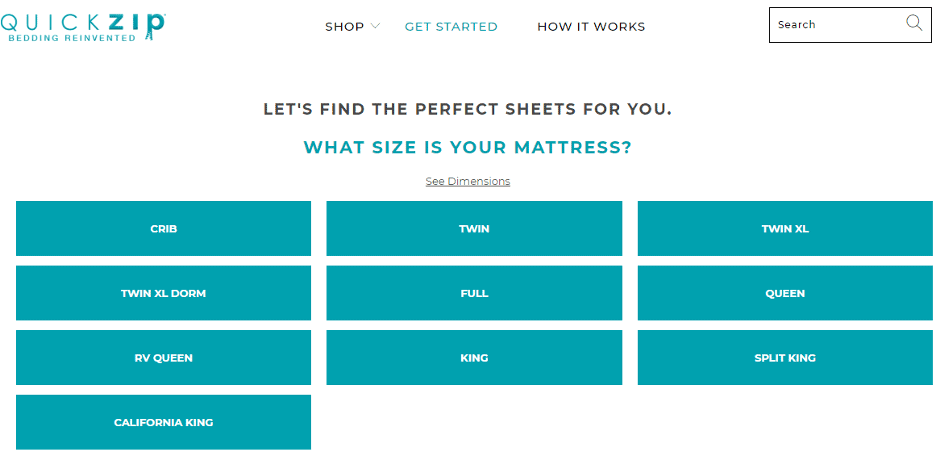 QuickZip lets its customers choose from different sizes of sheets first, ranging from cribs to California king, then follows up with the type of texture (soft or cool), and so forth. In case the customer doesn't know what size mattress they have, the site also has a link to a dimension chart.
This process closely mimics human decision-making and results in search results that meet the user's needs and the desired price range. The better you guide your customers through a purchase, the more likely they are to get what they want, resulting in higher customer satisfaction and repeat business.
9. CarCovers: Add trust badges to your site
Trust influences everything that we do. When we buy something directly from the manufacturer's website, we trust that we're getting a high-quality product based on name recall alone. It's also why we tend to shy away from brands that have disappointed us in the past. 
Trust badges are a quick and simple way to assure your customers that their money and personal information are being handled properly, and that they won't be sold to other users or used for reasons other than the immediate purchase.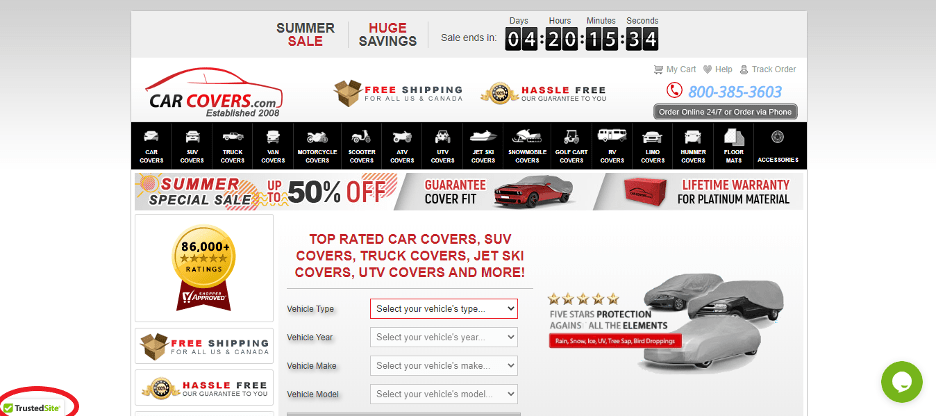 CarCovers, for example, experienced a 2.6% improvement in its conversion rates when it added the TrustedSite badge to its home page. While TrustedSite might not ring a bell to you, it's actually operated by the same company that offers the McAfee SECURE badge, which is an indication of its reliability. 
Aside from TrustedSite and McAfee SECURE, you can also get trust badges from PayPal, Norton, TrustGuard, and the Better Business Bureau and enjoy improved conversion rates.
10. Buddy Nutrition: Elevate the customer experience with chatbots
Chatbots have long ceased being a novelty. While some of the first chatbots generated had minimal capabilities and were limited to getting customer contact information during live chats, today's chatbots are powered by ever-expanding knowledge bases and a better understanding of human language thanks to AI. There's also an ever-increasing range of chatbot solutions.
Many websites now have chatbots to assist visitors with urgent questions. However, we've encountered instances where the chatbot becomes the centerpiece of the business model.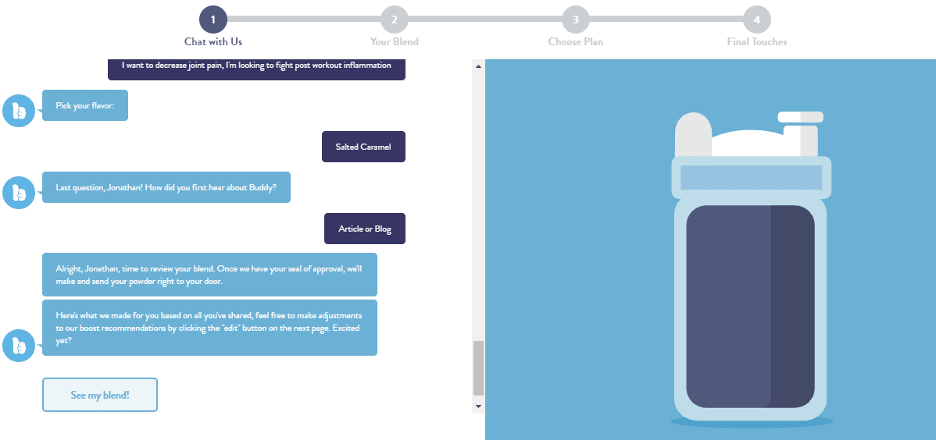 Buddy Nutrition is one such online store. It uses chatbot technology to ask you a series of questions about your current health, health targets, and even daily schedules to help it come up with specialized nutritional supplement drinks based on your needs.
A chatbot will help you connect with multiple customers at the same time and is easily programmed to reflect changes in your processes. Start small, then gradually "train" your chatbot to recognize more kinds of questions and possible answers.
Deriving inspiration from online stores
There is no single correct way of running an online store. The ten best practices we've discussed are just a few of the many different things you could implement in your site to attract more site visitors and increase sales. 
With most people staying in and looking at their screens during the pandemic, you can improve your site performance. Start testing your site soon and check whether these changes will help improve customer experience. Not everything will work out, so it's best to use a mix of all ten suggested actions or find your way. Here's to more sales this year!
This is a guest post by Owen Baker who is a content marketer for Voila Norbert, an online email verification tool. He has spent most of the last decade working online for a range of marketing companies. When he's not busy writing, you can find him in the kitchen mastering new dishes.