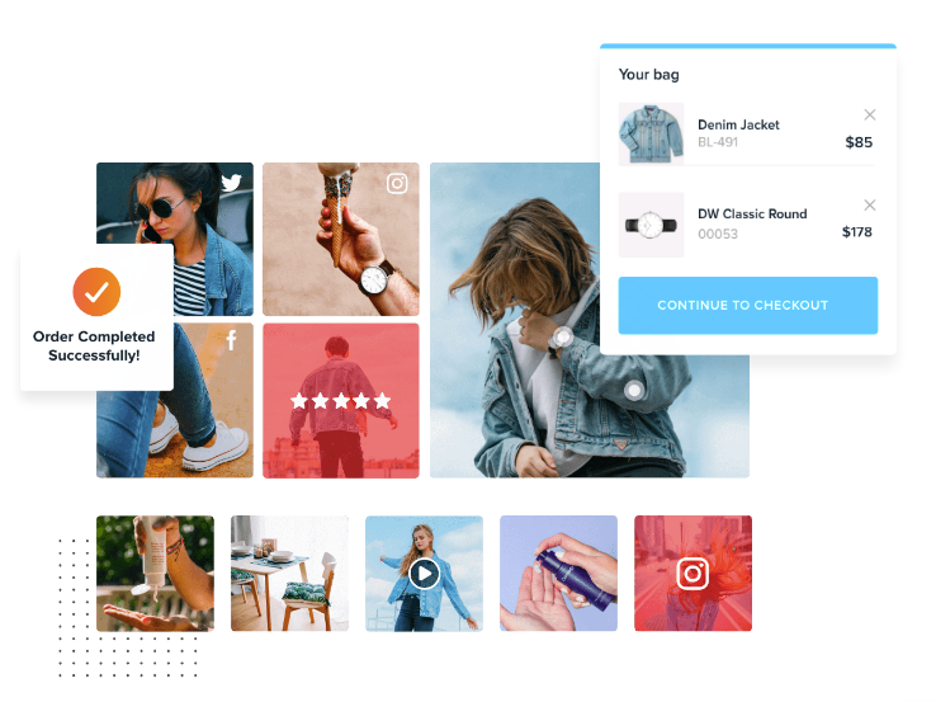 This is an article written by TaggBox, a way to help your customers shop visually on your website. We haven't used this software but it's intriguing to us and definitely looks like it's worth checking out if you have an online store!
eCommerce is an exponentially growing industry in this contemporary world. Every brand and business is strategizing to establish their online stores. Because of this edging competition in the eCommerce industry, customers have multiple options to choose from and buy products they want. Hence, it is a challenge for brands and marketers to attract customers by delivering unique experiences with their online store and attract them to purchase their products.
Like the offline shopping world, displaying beautiful products, attractive window shops, eye-catching offers, etc., you can also do the same with your eCommerce store.
How? With the commencement of Virtual Commerce, brands and retailers can set up an attractive interface of their eCommerce store with the help of visuals.
Do you want to know how Visual Commerce will help your online store too? If yes, then read this blog till the end and discover something new that helps you grow your online business.
Visual Commerce – Meaning
Visual Commerce is not limited to any single aspect of creating and applying visual content on your eCommerce website. Still, it is a comprehensive term that includes a diverse methodology of applying visual content in different marketing touchpoints.
First of all, Visual Commerce includes highlighting the product visual throughout the online store using creative graphics, videos, close product shots, 360-degree product view, etc.
Second, it is also about sharing high-end product visual designs on social media channels, emails, newsletters, etc., to enhance the user's experience.
Lastly, Visual Commerce includes collecting UGC or user-generated content from social media channels like Facebook, Instagram, Snapchat, Twitter, etc.. It integrates into marketing campaigns to repurpose it in the advertisement, shoppable posts, feedback forms, etc. to build a trustworthy relationship with customers.
Hence, Visual Commerce is all about integrating beautiful-looking visuals into marketing channels to enhance customers' shopping experience by delivering qualitative visuals wherever they need.
Importance Of Visual Commerce For eCommerce
The major challenge with eCommerce stores is that customers cannot touch the product while making a purchase, which is why millions of people leave the product page without buying.
To boost eCommerce sales, it is important to showcase the pictures of products that customers will easily see that how it would be in real life when they use it.
This is also why big eCommerce stores like Amazon are making huge sales as they are making the best use of visuals that help potential buyers find the important elements of the product.
But have you ever noticed that you confidently and instantly make a purchase decision when seeing the real-life picture of the product in the reviews section of the product instead of product images shown on the page by the brand?
Also, the brands reposting UGC on Instagram and Facebook tend to receive a greater response from the customers than the professionally clicked picture of the product.
But now, as your competitors are also following the same path for more sales and conversion, they grab your customers' attention by encouraging them to buy their products with the help of creative visuals.
So now, it has become increasingly important for eCommerce brands and stores to make a robust visual commerce strategy where you allow customers to get the 360-degree look of your product and find your product at different stages throughout their buying journey.
Hence, Visual Commerce is the growing need of the eCommerce industry to integrate into their marketing channels, including social media marketing, user-generated content, retargeting, and reaching customers via email marketing.
How Brands Incorporate Visual Commerce Into eCommerce Stores?
Seeing this growing competition, Visual Commerce is no longer an option with the brands and online stores; it is crucial to design a robust Visual Commerce strategy that they have to throughout their online stores.
So many big brands are utilizing the potential of Visual Commerce by inserting appealing images and visuals that are successfully grabbing customers' attention and improving their journey with your eCommerce store.
Visuals work as the storytelling content on your website, building a connection with the audience and improving their experience from the point of contact.
Not only infographics, high-quality visuals, and professionally clicked pictures make a huge difference in online stores, but inserting user-generated content from Instagram, Pinterest, YouTube, Facebook, Snapchat, etc on the eCommerce website or online store is generating enormous sales.
Visual Commerce is a potent solution for brands and marketers in this tough competition to attract customers and build relationships with them by displaying creative pieces of content that help them make better and informed purchase decisions.
Wrapping Up
I would like to conclude the blog with the last note that Visual Commerce is performing very well for those brands that are already practicing it. With the help of Visual Commerce strategy, they can attract their customers effectively and make huge sales.
So now it's your turn to blow the market and stand out from the competition.