Organizations, including non-profit organizations, must strive to rank highly in search engine results. The more organic traffic you can drive to your site, the more people will get to know about – and donate to – your cause.
But how can you improve your search engine results page (SERP) ranking? Knowing how to self-optimize your website is a great start, but not the whole story. In this article, we'll look at several strategies you can use.
Write Guest Posts
Guest posting is writing content for another website in exchange for a link to yours, and it is an excellent marketing strategy. By writing for a relevant authoritative website, you promote your organization to a new audience and drive traffic to your non-profit site.
Backlinks to your website signal to search engines that the linking site vouches for your content. A strong backlink profile with links from many high-authority sites is one of the most effective ways to improve your search engine rankings.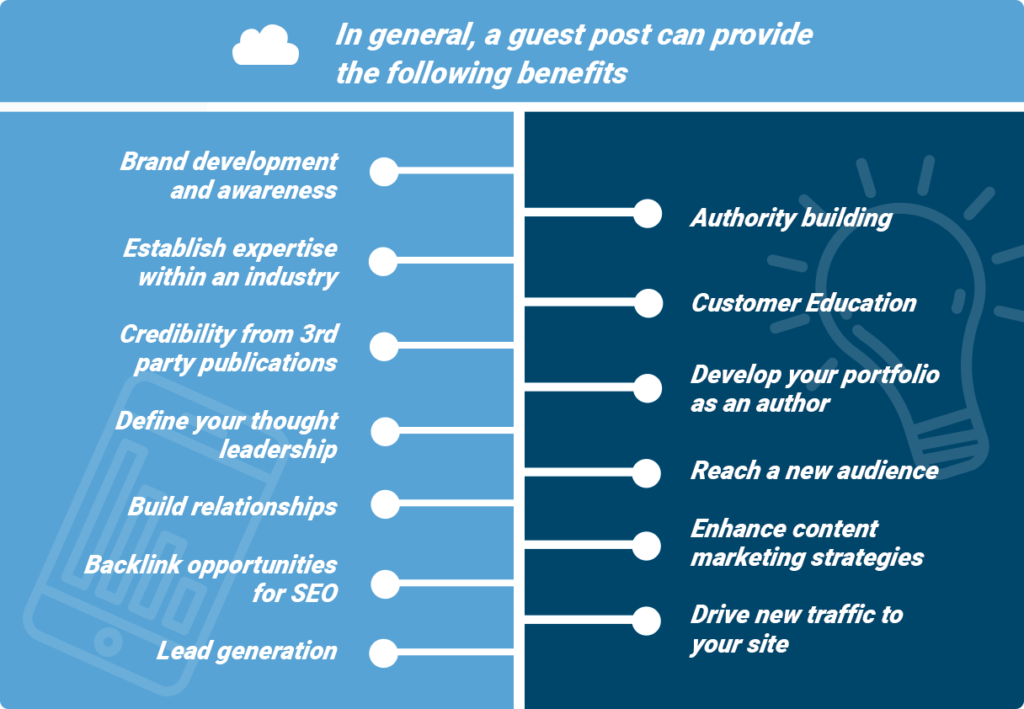 Source: Powerful Outreach
Convinced? Here's a snapshot of how to guest post:
Using a Google search for relevant keywords, find one of the highest-ranking websites in your niche. Search for that site on Ahrefs' backlink checker.
Using the high-ranking site's backlink profile, identify a list of websites to target. Aim for those with a Domain Rating (DR) of 50+.
Find the name and email address of the editor or site owner for each target website (using LinkedIn and an email verification service is the most efficient way to do this if the information is not listed on the website.)
Send a short, polite email to the editor. Introduce yourself and your organization, and ask if they are open to receiving some guest post pitches.
Some website owners will say no or ignore your email, but many will say yes. Once you've got that all-important yes, all you need to do is come up with a great idea and write a fantastic guest post.
Don't be afraid of guest posting. It sounds daunting but becomes easier with practice. When you do it well, you build relationships as well as growing your backlink profile. If you want more information, check out this helpful guide.
Promote Content In Online Communities
Promoting your non-profit content in online communities is a great way to increase visibility. This leads to higher engagement, which is an important search engine ranking metric.
Be strategic about where you promote your content. Indiscriminately posting it in as many places as possible will not yield the results you want. Search for relevant online communities filled with people whose interests align with your non-profit's mission. Facebook and LinkedIn groups are a great starting point.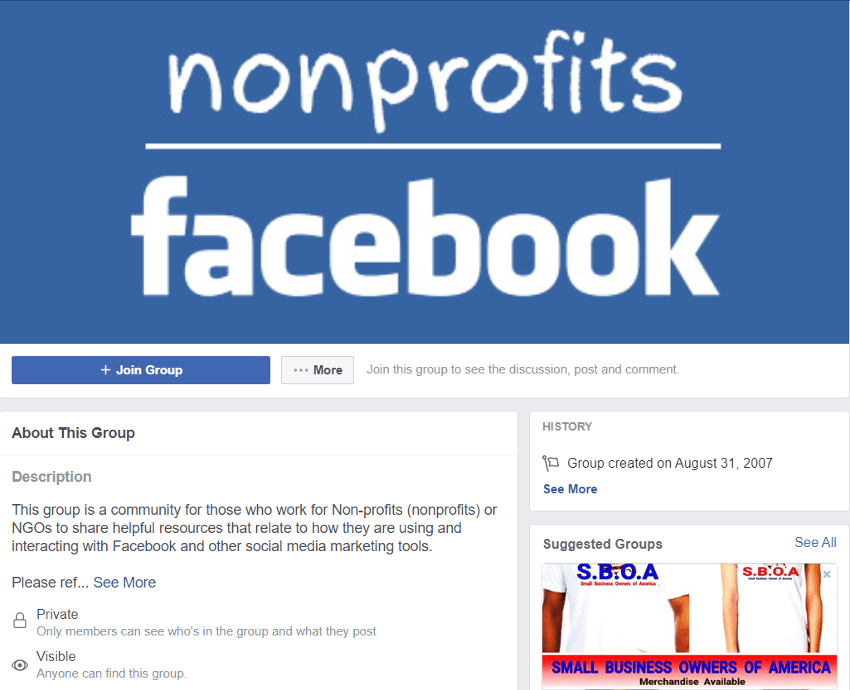 Once you've found the right communities, don't post your content immediately. Take the time to engage as a group member, reading and commenting on posts and connecting with people. Making an effort to do this shows that you are invested in the community beyond using it as a promotional tool, building trust with the group members and moderators.
Make sure you read the rules, too. If promotional posts are not permitted, don't be tempted to break the rules. You'll either annoy everyone or get booted from the group.
Answer Questions on Quora
Quora is a free online community where users can ask and answer questions about every topic you can think of. Search engine crawlers scan Quora's content – which is filled with keyword-rich and topic-relevant questions – and often display it prominently in search results. Therefore, you can drive traffic to your site by answering questions on the platform.
Choose your questions carefully, picking subjects on which you can speak authoritatively. Using the Quora Ads hack will help you to find the most popular questions. To do this, set up an ads account, choose "Questions Targeting," and enter a relevant keyword. You will see suggested questions and the number of weekly views for each one.
When you answer the question, focus on giving a thorough and actionable answer. Provide value, and clicks through to your website will naturally follow.
Take Advantage of Podcasts
Podcasts have exploded in popularity in the last few years and often appear prominently in search results. Podcasting takes substantial time and effort, but if you have the resources, it is worth it for your non-profit. According to Entrepreneur, here are the most important things you need to start a successful podcast:
A good microphone.
Headphones.
Pop filter.
A boom.
A Skype account.
ID3 editor.
Podcast hosting account.
Design software.
A vanity URL.
As you can see, starting a podcast can be an expensive endeavor – not to mention time-consuming. Check out this link to learn about podcast hosting sites and platforms. Most podcasts do not pay for themselves, at least initially. If you don't want to start your own, you can still take advantage of podcasts by asking to appear as a guest on other people's shows.
Do a Google search for "top [your niche] podcasts," and you'll find a list to get you started:

Research a podcast before you pitch to the host and make sure you have enough to say to fill an episode. Make sure you can offer value to the host and the listeners. Podcast interviews tend to be informal and conversational.
Repurpose Content
Repurposing existing content and publishing it on other platforms makes it available to a broader audience. People frequent different platforms and have different preferences for how they consume content.
If you've written an article, why not repurpose the same content for a YouTube video, podcast episode, or social media post? Video, images, audio, and infographics all increase engagement. A successful business blogger I know often turns posts on his site into short videos and podcast episodes, to great effect.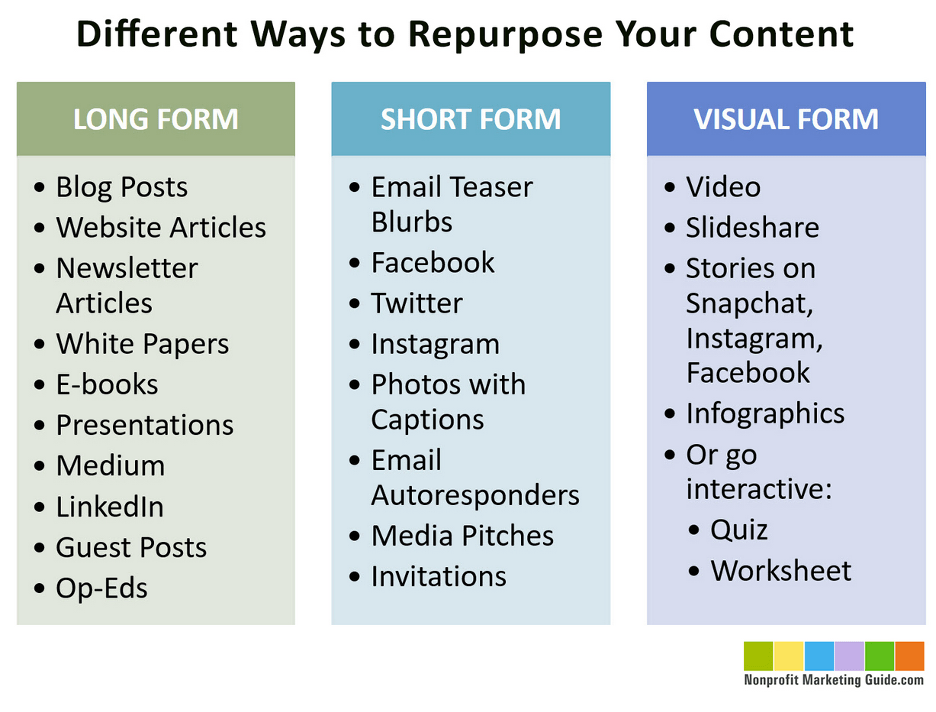 Source: Crowd Content
You've made an effort to produce your content, so it makes sense to extend its shelf life and get as many eyes (and ears) on it as possible.
Update or Merge Existing Content
It's possible to increase traffic to your existing content by either updating it or merging it with other material.
The purpose of this is to give another lease of life to content that would otherwise be forgotten. Use Google Analytics to find out which of your posts have seen a decrease in views. Once you've identified a post with reduced engagement, see how it's doing in search engine results compared to other posts on the same topic.
Then update the post, adding more information or additional content to help it rank more highly. Try graphs, infographics, images, updated statistics, or a new case study. You should also take the time to make sure the post is fully optimized for the relevant keywords.
If you have two posts on similar topics and neither of them is ranking very highly, try merging them and updating as we discussed above. Doing this might just be what they need to get a boost in the SERPs for your non-profit.
Create Different Content for Other Platforms
The more platforms your non-profit has a presence on, the better. Therefore, if you have the capacity, why not branch out into a platform or medium you've never used before?
If you've focused on written content until now, why not create a YouTube channel where you discuss topics related to your organization's mission or the world of non-profits? Use SEO tools and invest time in keyword research before you get started to determine which subjects are likely to rank highly.
You can also enter your target keywords on YouTube. What are the first few results talking about? This is your search intent. Your goal is to create content that satisfies that search intent.
Don't forget to optimize your videos to give them the best chance of ranking highly on SERPs. Give your video a descriptive title, use tags, and create an eye-catching thumbnail.
You also shouldn't discount platforms that have no search potential but can still be useful for generating traffic. Medium is one great example.
Increasing Search Traffic Rankings
As a non-profit, more people finding your organization and its content mean more potential support for your cause. Increasing your search engine rankings might not seem like a high priority at first, but it is vital if you want your website to get the attention it deserves. The key to increasing your SERP ranking is to make sure you're visible in the right places.
Fortunately, there are many different ways to get your message out there. Blogging, podcasting, making videos, guest posting, and using social media platforms are just some of the ways to boost your traffic. But don't overwhelm yourself by trying to grow your visibility in all these places at once. Choose one or two to begin with. Try things out, experiment, and make a note of what works and what doesn't.
Promoting your non-profit, boosting your SEO, and driving traffic to your website are all long-term and ongoing projects. Don't expect overnight results.
Once you've chosen your platforms, make the time to develop a cohesive strategy. Randomly posting won't cut it; you need to plan ahead and continuously monitor your progress. If you invest the time and effort, you should have no problem increasing search traffic rankings for your organization and what it represents.
This is a guest post by Owen Baker who is a content marketer for Voila Norbert, an online email verification tool. He has spent most of the last decade working online for a range of marketing companies. When he's not busy writing, you can find him in the kitchen mastering new dishes.