For a great example of the importance of domain names, let's take a look at what is going on in the current political wars. Not only are current presidential candidates taking a hit at each other on TV and in debates, they're also waging war with domain names! It's not enough to have the basic domain name like candidatex.org. What about candidatex.com? What do you think happens if Candidate X does not buy his domain name in both .org and .com? The answer is simple. Candidate Z will register it!
Let's take a look at some important points about domain registration and examples of the current political domain wars going on in this year's presidential race.
If your website is on .org, make sure you've also registered the .com.
Ted Cruz's website is located on his domain tedcruz.org. Fine. But look what happens when you type in tedcruz.com (it goes to a short message about Obama). Probably not what he intended. But how many people know it's tedcruz.org instead of tedcruz.com? Plus, most are just going to automatically type the .com out of habit.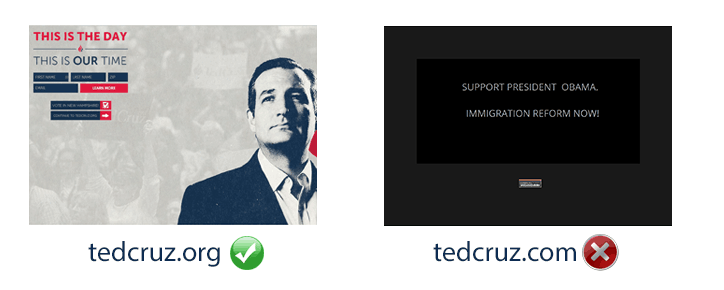 Another example of this is jeb2016.com, the campaign site for presidential candidate Jeb Bush. Look at what happens when you go to jebbush.com or jebbush.co! I doubt he wants his fans going to Donald Trump's website, but that's exactly where they land when they type jebbush.com! See what happened? Donald Trumps crew registered jebbush.com and have it forwarding to their own site. Clever of them to think of that, not so clever of Bush's crusaders to neglect such an important detail!

Common misspellings can lead your site visitor to the wrong page.
Many people make typing errors or misspell names when searching for a website or topic. It's very important to try and register the domains that might be common misspellings of your actual domain name. For example, Hillary Clinton's crew didn't think about people possibly misspelling Clinton to Clintin. Look what happens when you go to a misspelled hillaryclintin.com (it redirects to berniesanders.com — OOPS!)!


In addition to registering Hilary's misspelled domain, the Bernie Sanders campaign found a fun way to handle a misspelling of their own candidate. Check out bernysanders.com. Obviously, Bernie is spelled with an 'ie' but it seems like spelling it with a 'y' is probably fairly common. The Bernie Sanders camp wisely registered the misspelled domain and had some fun making the entire website at bernysanders.com a muse of misspellings. Well played, Bernie Sanders for President. Well played.
While we are at the height of political rhetoric and propaganda, you can see why registering all possible domains is so important for these candidates. It's also important for your business. You don't want an alternate version of your domain redirecting to a competitor's website!
With all of this in mind, here's our main points to remember when registering a domain name:
 If at all possible, you want to be on a .com — it's still the king, even with all the new extension options
 If your website is on a .org, always register the .com
 Consider registering all of the big four: .com, .org, .net, and .co
 Consider registering common misspellings
 If you think you might want a domain, register early